Welcome to Mobile's Battleship Rugby Football Club
We are glad you found us! We are a rugby club consisting of Senior Men's, Senior Women's, U19, and U12 teams competing across the Gulf Coast and Southeast. Founded in the late 70's, Battleship Rugby is the only Senior and youth rugby organization in the Mobile Bay area. We have represented Mobile every year since 1975; and whether you are new to rugby or new to the Mobile area, we want to invite you to learn this sport by becoming a player or fan now.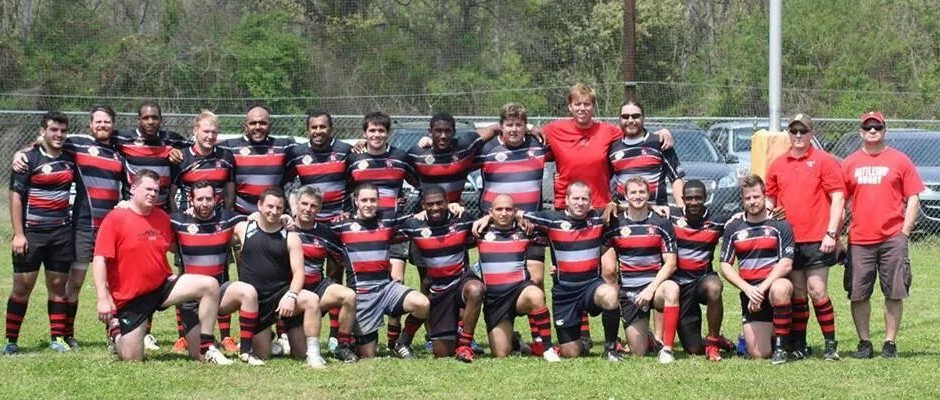 photo from 2014 True South DIII Championship in Huntsville, AL
Who Plays Rugby?
Everyone! Let's go over a list of athletes and see how they can fit in playing rugby:
Are you a football player? Then you are hungry for a score and you are already hard-wired for impact. Hopefully, you will already have a team mentality and recognize the importance of player positioning. The transition to rugby should be natural, as long as you understand that you are no longer protected by equipment and that you must make some adjustments to the way you tackle. You must also get used to the fact that play does not stop just because someone gets tackled or the ball goes out.
Are you a wrestler? Then you know that in order to win, you must be aggressive and score early. The ability for a team to set the pace of match often ensures them the desirable outcome. The proximity of opposing players and the limitations of gravity ensure that this sport will come naturally to you. Tackling and rucking are all about recognizing your position and playing your strengths.
Are you a soccer or basketball player? Then you know what it is like to sprint back and forth between the goals playing both defense and offense. You may not have experience with the physical contact that is apparent in rugby, but you are already light years ahead of most other new players because you are always focused on the position of the ball and where you need to be to make the next play. Learning to tackle is much less intimidating once you realize that none of the players are protected by equipment and that players are trained in safer tackling techniques.
Are you a swimmer, or in track and field? Then your stamina and endurance will make you instantly successful on a rugby pitch (aka rugby field). Knowledge of the game is important, but after 80 minutes of hard physical activity, your ability to keep going will often lead to multiple scoring opportunities as other players get winded.
Are you a baseball or tennis player? Then your hand-eye coordination is key to your success. You will have more to learn than other new players that already have experience with physical contact. But if a more physical game is what you are looking for, rugby might be what you are missing.
Never played a sport before? It doesn't matter. Rugby might be a perfect start. And rugby has much more to offer than 80 minutes in the game. Rugby will take every bit of energy out of you in under 80 minutes, but it can also give you a lifetime of enjoyment and many lifelong friends to share it with. Rugby players leave it all on the pitch; but when it's all said and done, they get so much more in return in the way of friendship, camaraderie, and personal satisfaction!
Everyone regardless of physical prowess or athletic achievement is invited to learn and play rugby!