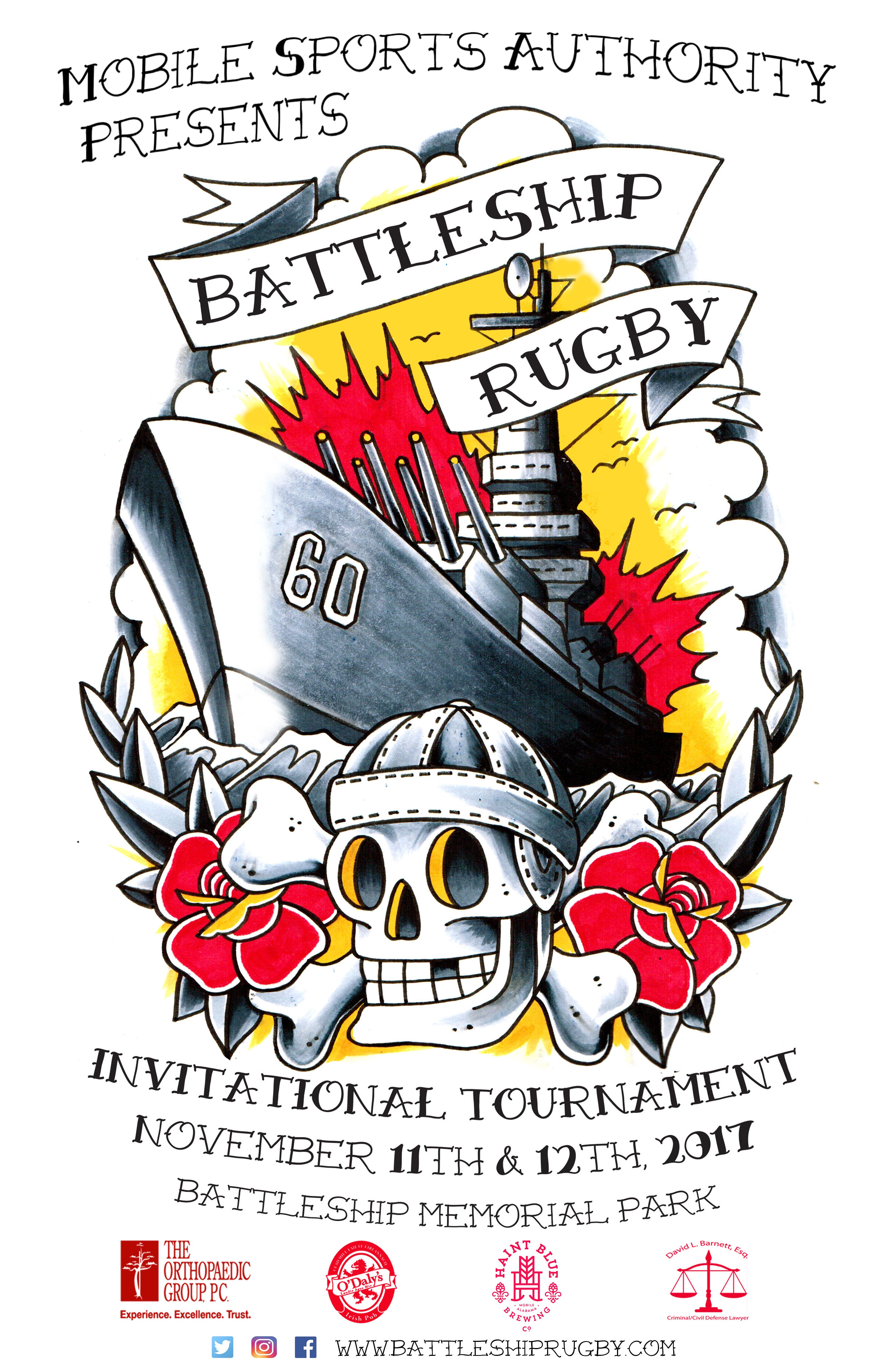 Battleship Rugby Invitational Tournament (BRIT XV's)
Teams from all over country, and often the world, converge at the USS Battleship Alabama Memorial Park for a two day rugby tournament. The tournament is held in November and can host up to 40 teams in multiple brackets, ranging from U12 to Old Boys (Legacy). The Battleship Rugby Invitational Tournament has a history of being one of the south's premier rugby tournaments. The event has helped Battleship RFC to become a well-known club in the rugby community; and it has made the Battleship Park a major icon for rugby in the south.
Historically, the tournament served as the proving grounds for some of the south's finest rugby teams and has played host to many regional playoffs. It has also attracted the attention of international teams over the years. By bringing together many of the same southern teams every year, it has become a major landmark event for rugby in the south. But is can also play host to some of the toughest showdowns between some high ranking teams. And, no matter what shape a rugby club is in, they are guaranteed as much rugby as they desire.
Tournament Overview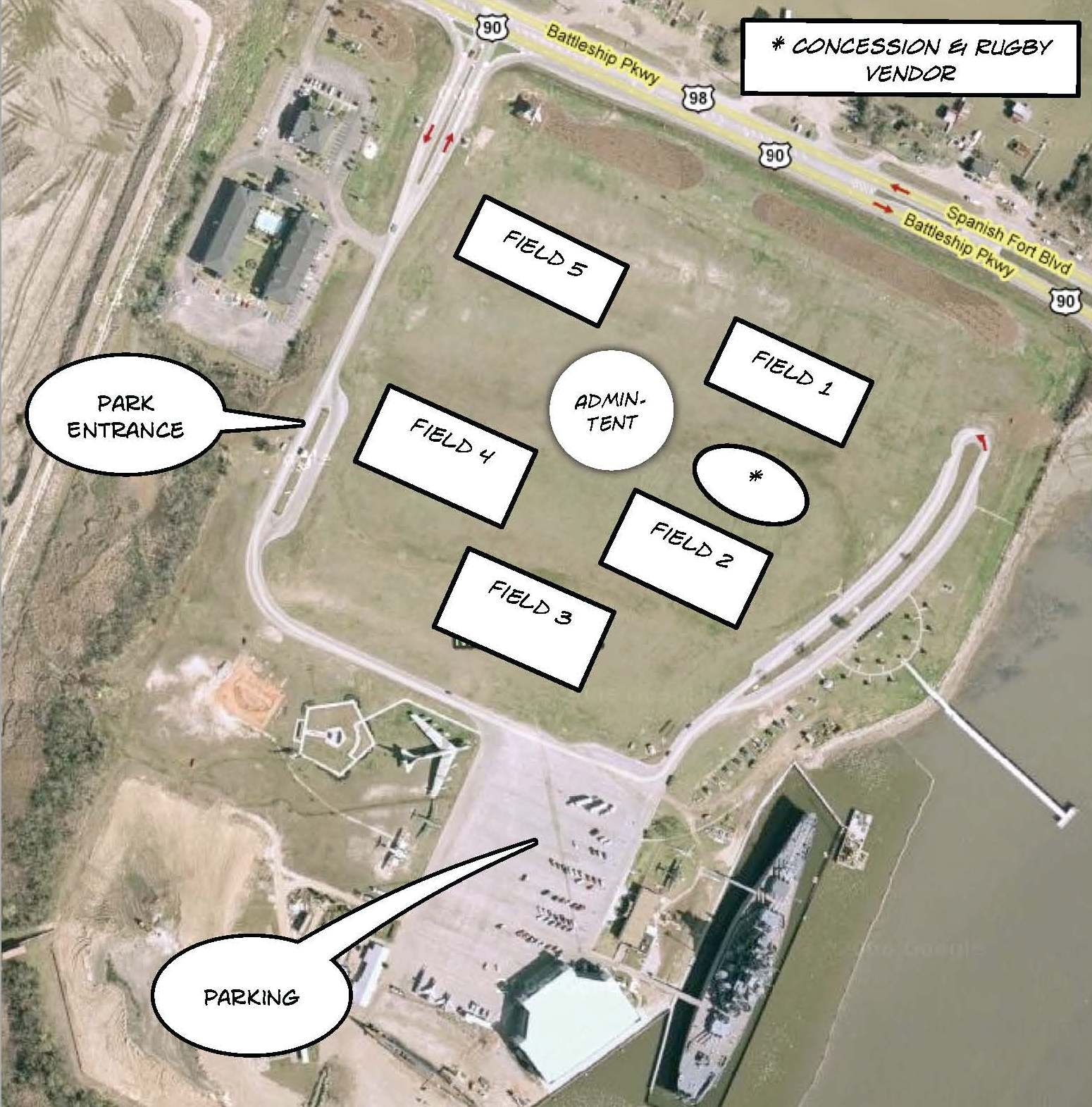 The tournament is organized and played on up to five regulation sized pitches (rugby fields) over a two day period. The games are played with the full 15-a-side lineup and are played in two 20 minute halves. Games start at 9:00 AM and are played until about 4:00 PM on Saturday; each team is guaranteed 2 games on Saturday. On Sunday, the playoff round begins. Depending on the outcome, a winning team can play 2 more games on Sunday. All teams are guaranteed a single game on Sunday bringing the total play time for the weekend to 3 games played!
There are a myriad of vendors and concessions available throughout the weekend. Our friends with the USS Alabama Battleship Park always offer an assortment of hamburgers, sausage dogs and sodas for sale while the Battleship RFC offers light snacks and sports drinks to accompany tournament apparel for sale.
Whether you're a player or a fan, there is a $4 parking fee charged to each vehicle that enters the park. Remember to bring cash! Weather is always a bit tricky this time of year. We have played in abundant sunshine one day and torrential rain the next with temperatures generally ranging from the low 80's to upper 50's. So grab a chair, a cooler and an appetite for some of the best rugby around. We look forward to seeing you in November.
Hotel Information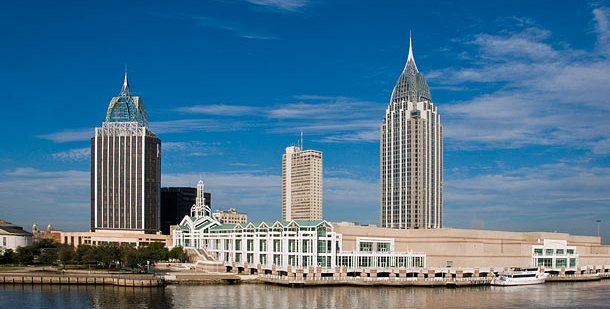 The Renaissance Mobile Riverview Plaza Hotel in Downtown Mobile has been a wonderful host to our teams in the past. They have a $99.00 rate for teams for the 2017 tournament. To book your rooms online by clicking the link below or by calling 1-800-922-3298.
Book your group rate for Battleship Rugby Football 2017
Tournament Social
Very popular for this tournament is the Tournament Social held in downtown Mobile on Saturday night. The event is a major attraction to the social players and rugby fans. Traditionally located at O'daly's Irish Pub, the event usually spills over into the neighboring bars and clubs.
Tourism Information
Click the image below or visit mobile.org for more information on local attractions.